I had a life..
..now I have the Internet :D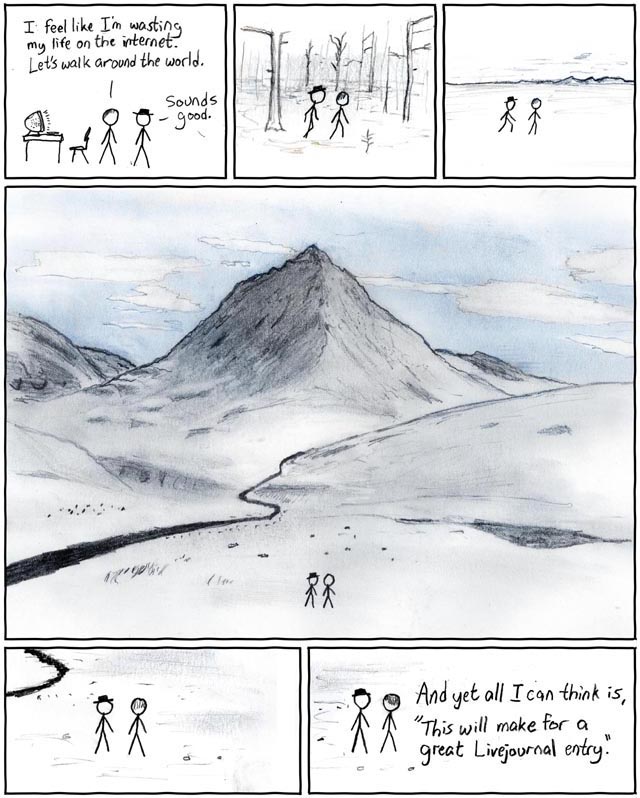 Photo courtesy: xkcd.com
It's not recently that I have been wondering how my social life is like. Except my team members, the peers I meet during classes, and my housemates, I hardly have time to interact with any other human being. The occasional smile at the grocery store counter lady and the UPS guy doesn't count because I don't really know them.
I have at least 3 friends since the past 3 years that I have not met in real life. They exist as email and chat ids and phone numbers.
Maybe this is why I love blogging. It gives me a platform to reach out to new people, their ideas. Or a new perspective from the old pals I know.
Someone once said that I like to present different situations and like to observe how he reacts in each one of them. I don't really believe that I have such a megalomaniac attitude. I am
genuinely
interested in people.
I like to notice how they behave while in anger, in love, in happiness or in grief. The kaleidoscope of human emotions fascinates me. Biochemically, they are nothing more than a bunch of ephemeral chemicals triggered. Or a physiological process. A little this or a little that. In varying proportions. Of the same constituent elements. The redness of the face when in wrath and the blushing of a bride- what's the difference? An excitatory message hitting the frontal cortex of the brain, sending signal to the autonomic nervous system, following a constriction of the blood vessels (which is why you turn pale first) and then dilation (which causes a larger quantity of blood than the normal level to flow through them)- called flushing or blushing.
But honestly- tell me- what's so magical? Why do we still want to love/hate/care/hurt all those around us whom we feel important? Why do we want the blush on that beautiful face just for us? When we know, that we can control some the outward manifestation consciously?
I don't know. But somewhere amidst this forest of wires and softwares and virus attacks , we might have begun to appreciate human emotions and locution even more. Maybe that is why beauty to me is a face capable of expressions. And ugliness is in plasticity.
THIS is gross